Back Anatomy
Back Facts
Back Anatomy
Causes of Low Back Pain
Testing
Treatment Options
The spinal column (or vertebral column) extends from the skull to the pelvis and is made up of 33 individual bones termed vertebrae. The vertebrae are stacked on top of each other group into four regions:
| | | | |
| --- | --- | --- | --- |
| Term | # of Vertebrae | Body Area | Abbreviation |
| Cervical | 7 | Neck | C1 – C7 |
| Thoracic | 12 | Chest | T1 – T12 |
| Lumbar | 5 or 6 | Low Back | L1 – L5 |
| Sacrum | 5 (fused) | Pelvis | S1 – S5 |
| Coccyx | 3 | Tailbone | None |
The cervical spine is further divided into two parts; the upper cervical region (C1 and C2), and the lower cervical region (C3 through C7). C1 is termed the Atlas and C2 the Axis. The Occiput (CO), also known as the Occipital Bone, is a flat bone that forms the back of the head.

Atlas (C1)
The Atlas is the first cervical vertebra and therefore abbreviated C1. This vertebra supports the skull. Its appearance is different from the other spinal vertebrae. The atlas is a ring of bone made up of two lateral masses joined at the front and back by the anterior arch and the posterior arch.
Axis (C2)
The Axis is the second cervical vertebra or C2. It is a blunt tooth–like process that projects upward. It is also referred to as the 'dens' (Latin for 'tooth') or odontoid process. The dens provides a type of pivot and collar allowing the head and atlas to rotate around the dens.

Thoracic Vertebrae (T1 – T12)
The thoracic vertebrae increase in size from T1 through T12. They are characterized by small pedicles, long spinous processes, and relatively large intervertebral foramen (neural passageways), which result in less incidence of nerve compression.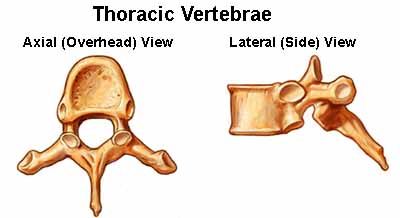 The rib cage is joined to the thoracic vertebrae. At T11 and T12, the ribs do not attach and are so are called "floating ribs." The thoracic spine's range of motion is limited due to the many rib/vertebrae connections and the long spinous processes.
Lumbar Vertebrae (L1 – L5)
The lumbar vertebrae graduate in size from L1 through L5. These vertebrae bear much of the body's weight and related biomechanical stress. The pedicles are longer and wider than those in the thoracic spine. The spinous processes are horizontal and more squared in shape. The intervertebral foramen (neural passageways) are relatively large but nerve root compression is more common than in the thoracic spine.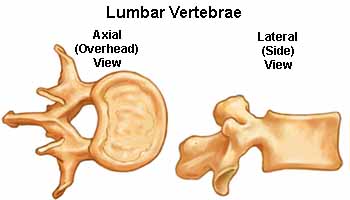 Salama Chiropractic Center

Wendover Chiropractic Clinic Location
Suite A, 3410 West Wendover Avenue• Greensboro, North Carolina 27407

© 2008 All Rights Reserved.